DAY 1
My son and I went cycling about 45km down the memory lane around Machang suburbs where I used to live and play during the first quarter of my life.
We pushed off from my sister's home near Machang at 6:40am towards Gelung Gajah, Wakaf Bata, Kampong China, then crossed Guillmard Bridge to Kusial, Kepat, Tebing Tinggi [Tanah Merah suburb], crossed Tebing Tinggi Bridge back to Kg China, followed old road to Kelaweh - stopped over at aunty house for tea, then continued to Kuala Sat, Sungai Bagan, Joh, Lalang Besar and finally returned to where I started this journey.
Gelung Gajah
Gelong Gajah is not far from my grand parents
kampong
[on my mom's side]. It is a large farming and grazing area stretches over thousand of hectares. The natural vegetation characteristic around this area is quite similar to the savanna in Africa. In the 60's during flood season [Nov and Dec] I used to follow my grand dad to catch fish around here.
Gelong Gajah is well known for watermelons for quite some time ago.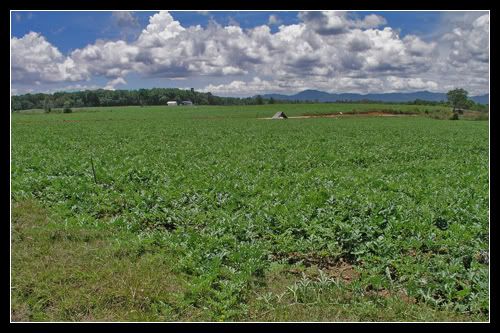 Wakaf Bata
After passing through Gelung Gajah we arrived at Wakaf Bata which is located along state road [D213] connecting Machang and Tanah Merah before route #4 was completed. There is an infamous place called Padang Kelupang which cuts the road communication between the two towns during monsoon season when the nearby river, Sungai Sat overflows.
Padang Kelupang, near Wakaf Bata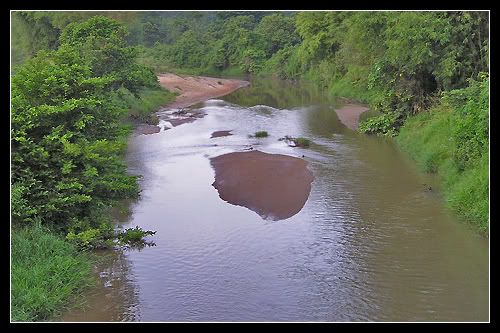 Sungai Sat
Chekok Kelaweh
Next was
Chekok
[junction] Kelaweh. There is a shop, Kedai Halim at the junction still exists till today where I used to go watch TV shows - the only TV available in my kampong back in the 60's.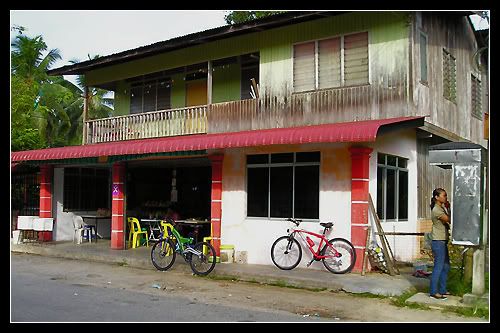 I used to walk or cycle 2km from my grandparents's house [on my dad's side], who lived at Kelaweh by the banks of Kelantan River [downstream of Kampong China and upstream of Sungai Bagan]. I was in primary school then. Only after entering secondary school I stayed with my parents across Sungai Sat at Kampong Hutan Putih - about 3km frm Machang.
Kampong China
About one km cycling from Chekok Kelaweh we arrived at Kampong China - also known as Kampong Tanah Merah. There are many Chinese settlers [
China Kampong
] along Kelantan River banks. I still remember the same shop I used to go
shoping
regularly nearly one half century ago... nothing much changed ever since except there is a new brick house next to it.
The Guillemard Bridge
We moved on along the old road, down the memory lane towards the famous Guillemard Bridge.
The echoes of KTM train pulling through the Guillemard bridge, the longest of its kind in SE Asia, and probably was built
as strong as
the Humber Bridge in the UK brought me back to the past. This bridge was part of my life in those good
'ol
days. My father was a territorial army and at some point in the history he was stationed in a camp by the side of the bridge. I used to cruise upstream in river boat from Kg Kelaweh to meet him often. I was staying with grand parents then. Even as a child I was amazed by the bridge engineering.
The Guillemard Bridge, over Kelantan River near Kusial in Tanah Merah, Kelantan was constructed in 1920 by The Metro Carriage & Wagon, Finance Co. Ltd, Wednesbury Works, England and was completed in 1924.
During the 2nd World War the bridge was bombed down [the scraps are still there till today]. The severely damaged bridge was rebuilt in 1948. Spanning over 600m, it was previously used by all vehicles till Feb 1988 after which a new bridge for other road transports was completed along route #4. From then on the Guillemard Bridge is exclusively for KTM use only. Bikes and pedestrian still can use the side passage though.
Joh and Kuala Sat
When I was a kid my grand parents discouraged me from entering this territory for some reasons... in order to go to Sungai Bagan Estate to visit my uncle we preferred to take 'kapal sungai'.
Kisah "aku, dia, sungai dan kapal" reminds me of Tom Sawyer/Huckleberry Finn - characters created by Mark Twain in the book "The Adventure of Tom Sawyer"
Small Holder at Kg Joh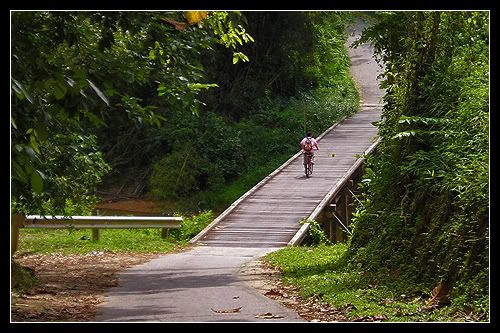 Sungai Bagan Estate
My late uncle, spent most of his life working here. There was a large rubber estate before converted to oil palm plantation. He started working here as a clerk... many yrs later he was promoted to assistant manager before finally transferred to Sungai Tong Estate as the estate manager in late 70's.
There is an island adjacent to the estate, named as Pulau Raya. It is the largest island in Kelantan River.
I spent some time at Sungai Bagan around the place where my late uncle used to stay. While pedaling under the shade of palm trees I demonstrated to my son how to
drift
for a quick 90deg turn. Still learning how to master a quick 180-degree drift though.
Kelaweh and Hutan Putih
These two villages are actually where I belong. Lemme tell a little story...
I was born in Kg. Kelaweh and brought up by a loving grandmother until I was 6yrs old when I had to stay with my biological parents at Bt Melintang near Jeli to start schooling. Fortunately when I was 9 yrs old my grandmother regain her 'belongging' and I was re-transfered to SK Kelaweh in std 3. At Kelaweh I stayed under one roof with many cousins. Every day full of joys, sometimes fighting over durian territory did occur too... otherwise just played hide and seek or fighting games.
After my father had retired from territorial army service he moved to Hutan Putih, near Machang. I stayed with my parents only after I entered 2ndry school. I visited the dying grand mother quite regularly then - it is just 2 km away across Sungai Sat.
After LCE exam I left Machang to continue my upper secondary education in Kuantan for two years, and after MCE exam I was briefly in a school @Bkt Mertajam for pre-U courses before continuing my study in a tertiary institution in KL.
After graduation I was sent for on-the-job training somewhere far away before finally moved to Southern Klang Valley in the early1980 and stay there until today.
________________________________________________
DAY 2
On day 2 we cycled almost 60km more to make it 100km cycling in total. We started the journey from Hutan Putih at my sister's house again at 6:45am.
Along the way we passed through Pangkal Meleret, Limau Hantu, Kg Pak Roman, Paloh Rawa, Kuala Krak...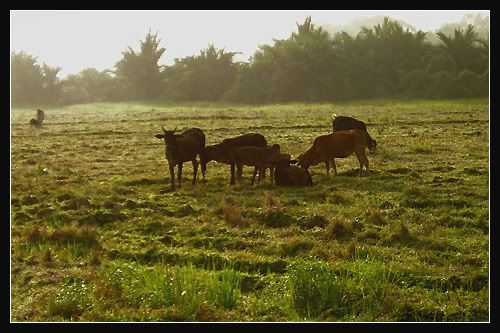 ...finally Temangan, another place of mine and also where I left Kelantan on a train to start a new life in Klang Valley back in the 70's. Today the interstate trains no logger stop there.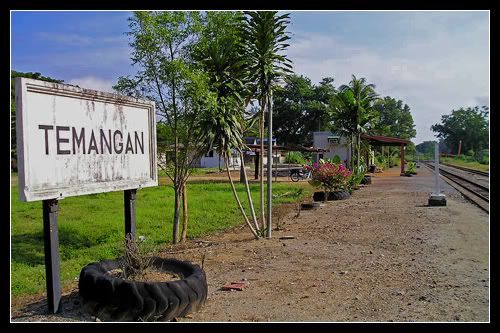 The old railway station had been demolished.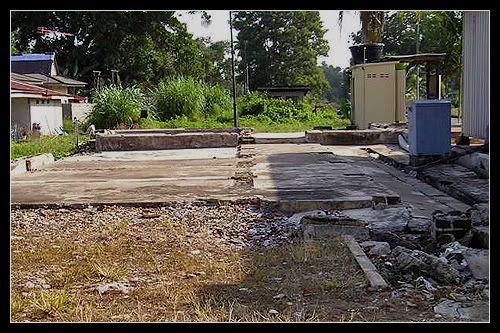 The station master house is still standing, though the paint is cracked and dried...
...and there is an old tree that I used to play on....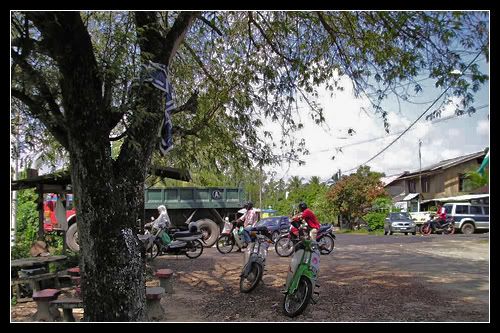 From Temangan we continued our journey along Jalan Bkt Besi then cycled up to the summit. When I was a kid I had a dream to
conquer
the summit on bicycle. Today I do it in
style
with my son after cycling more than 25km from the starting point.
It was really hard to go up there but in return we enjoyed the 2km downhill free-wheeling. The Proton T-Bolt ATB air-suspension soaks up bumps and drops very well.
The full suspensions, disc brakes and knobby tyres assured excellent grips.
At the midway I met a couple of kampong folks [probably the immigrants from South Thailand - based on their
loghat
] returning home from work. I asked them whether there is still tiger roaming around. I was assured it is safe. The iron ore mining has also been reopened...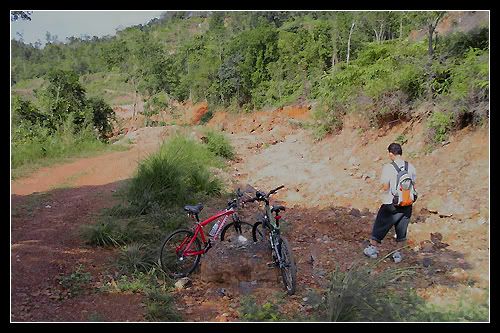 My son was collecting samples of iron ore...
A closer look at the ore...
"And We sent down iron in which there lies great force and which has many uses for mankind"
( Al-Hadid 57:25)
to be continued....